Terrorism arrests after 'suspect items' found in Torquay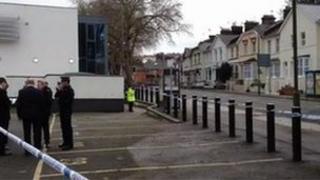 Two men have been arrested under the Terrorism Act after "suspect items" were reported in Torquay.
Fifteen homes were evacuated by police called to a property in Lymington Road, Torquay, at about 11:00 GMT after residents raised the alarm.
A 20-year-old and an 18-year-old, both from Torquay, were initially arrested on suspicion of criminal damage.
They were later rearrested on suspicion of a section 41 offence - the preparation of a terrorist act.
'No threat suggestion'
Assistant Chief Constable Sharon Taylor, of Devon and Cornwall Police, said the arrests were carried out as a "precaution".
She said: "There is nothing to suggest any imminent crime or threat to any person or property."
She added that officers would be questioning the men over the "next couple of days", and counter-terrorism officers were involved in the investigation.
Police said the first arrests led officers to search a property where "potentially dangerous" items were found.
The area, between Upton Road and Upton Hill, was closed to the public for about five hours while investigations took place.
Bomb disposal experts and the fire service were also involved in the operation.
The area was later reopened and residents allowed to return to their homes, but police remain at the site.
Section 41 of the Terrorism Act 2000 allows a police officer to arrest anyone they "reasonably suspect" to be a terrorist.