Paignton Zoo keepers' undertake animal head count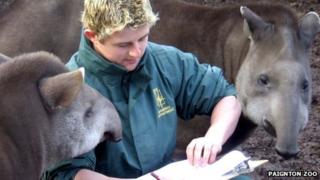 Paignton Zoo is counting its animals as part of the annual stock take.
Records are kept of all births, deaths, arrivals and departures and the head count is a licensing requirement.
Keepers have about 2,000 animals to count, made up of 70 species of mammals, 150 bird species, 50 reptile species and 30 species of amphibians.
"It's easier to count our two black rhinos than it is to add up the hundreds of tiny frogs." zoo spokesman Phil Knowling said.
"Some keepers have their work cut out at this time of year."
Births at the zoo in 2012 included two red pandas, four Asiastic lion cubs, two Rothschild giraffes and a rare Goeldi's monkey which weighed about 55g - similar to a small bar of chocolate.
Mr Knowling said the head count was as accurate as possible, but it was impossible to know exactly how many of the tiny creatures and insects the zoo has.
"It's pretty precise, but we count an ant colony as 'one' because no-one could count every individual ant... and when it comes to the hissing cockroaches - we simply list those as 'many'," he added.
A head count is also being undertaken at Living Coasts in Torquay. The coastal zoo and aquarium's 22 species include Eurasian otters, rhino beetles, stick insects and penguins.
"The penguins are hard to count - there are lots of them and they keep moving," Living Coasts exhibit manager Clare Rugg said.