Devon elderly given days to leave home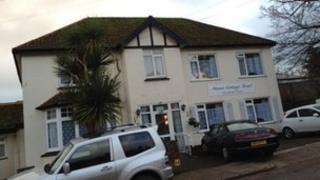 Thirteen elderly people living in a care home are being moved after the owners told families that residents had to be out by Friday.
One woman who spoke anonymously to the BBC said she had only been told on Monday that her mother had to leave Manor Cottage in Paignton, Devon.
Home owner Kenneth Peek is blaming ill health for the closure.
Torbay Care Trust said it was working to ensure a "smooth transition" to a new home for residents.
Care 'a priority'
Inspectors from the Care Quality Commission told the home to improve various aspects of its care in 2012.
Its most recent report, in December 2012, it said that although some things had improved, it was still below standard in some areas.
It is not clear whether this had anything to do with the closure of the home.
The health trust said the owner had told it that "due to illness and the fact this his manager is leaving on the 4 January 2013, he feels it is no longer possible for him to run the home".
It continued: "Residents and their families should be reassured that we and local authority partners will continue to work closely with them and with the owner, manager and staff at Manor Cottage to ensure a smooth transition to a new home for each of the residents.
"Although we are responding to a tight timescale the care of residents is a priority and each individual resident will be followed up by care staff to ensure that their needs are fully supported in their new home."