Drake's Island plans turned down by Plymouth City Council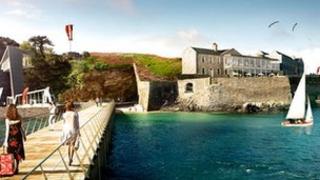 Council planners have turned down proposals to turn derelict buildings on Plymouth's Drake's Island into a boutique hotel.
Former Plymouth Argyle chairman Dan McCauley who owns Drake's Island, announced plans to create a hotel in December 2011.
Plymouth City councillors voted against the plan saying the developers had not provided enough information.
The £10m scheme included a refurbished jetty and greater public access.
Napoleonic era
The councillors said Mr McCauley's company had not done surveys on bats and little egrets and so could not give details on how wildlife on the island might be affected by the development.
Drake's Island covers about six acres and contains military barracks and buildings from the Napoleonic era.
Mr McCauley announced in 2011 he wanted to open an upmarket boutique hotel with a bar and restaurant.
The proposal was the latest in a series of plans announced by the Tiverton-based businessman.
When Mr McCauley bought the island in 1995 he said it would be turned into a maritime theme park.
About 10 years ago Plymouth City Council turned down an application to turn it into a visitor attraction and a hotel.
Mr McCauley has not yet commented on the council's decision.