By-law review to prevent illegal fishing in the South West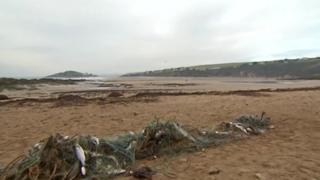 New regulations could come into effect in 2013 to help prevent illegal fishing in the South West.
The Devon and Severn Inshore Fisheries and Conservation Authority (IFCA) says the practice is seriously damaging fish stocks and the environment.
Loopholes in the current by-laws have made it hard to prosecute the minority of people who fish illegally.
The new by-laws would apply to everyone, not just commercial fishermen.
The regulations will also be more strict with regard to where specific species can and cannot be fished.
'Risk and reward'
Earlier this month about 150 sea bass were found in netting thought to have been laid by poachers at a fish nursery in south Devon.
It was the third such incident in an area where netting is banned to help protect fish stocks.
Matthew Mander, from the IFCA, said more illegal nets were being laid in estuaries where different species - such as bass and mullet - "merge".
"More and more netting is going on and because the returns are getting higher the risk and reward means these individuals are taking greater risks to get the rewards for their activity," he said.
"We would encourage anybody who sees any suspicious activity to come forward."
Mr Mander said it was hoped a review of the existing by-laws would tighten any loopholes and help the authority manage the region's fisheries in a more "innovative and effective" way.