Derriford Hospital uses 3D imaging for cancer diagnosis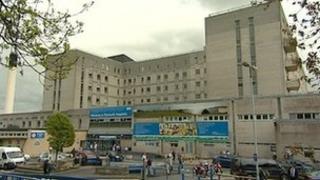 Breast cancer diagnosis at Derriford Hospital will be carried out using a new technique and upgraded technology, say the hospital's doctors.
Tomosynthesis is a three-dimensional imaging technique that provides an arbitrary set of reconstructed images of the breast.
A spokesman said tomosynthesis "has the potential of improving early detection of breast cancer".
The hospital said it would also lead to fewer false alarms in diagnosis.
The Primrose Breast Care Centre at Derriford is one of the first in the country to install the 3D tomosynthesis upgrade to one of its mammomat X-ray machines.
Dr Gareth Porter, consultant radiologist and clinical director of imaging, said: "We are pleased to be one of the first trusts to support this new technology which will help us to improve the quality of the service we provide to our patients at a time we recognise can be very stressful.
"Without the support of the Primrose Foundation [which fundraises for the centre] we would not be in the fortunate position to develop the clinical research that will help shape future clinical practice further improving the care of women with breast problems."