Equestrian Mary King among Devon honours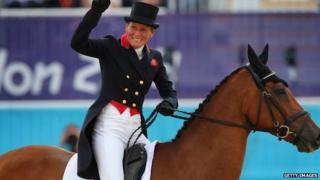 Devon people recognised in this year's New Year Honours include Olympics 2012 medal-winning equestrian Mary King.
King represented Team GB for the sixth time in the Olympics and has been appointed MBE.
Professor Brian Golding from Sidmouth has been appointed OBE for his work in predicting hazardous weather.
Irene Wills, chairman of the Plymouth Pisces Swimming Club, which caters for people with any sort of disability, has been awarded a British Empire Medal.
She said: "We taught a lot of people to swim and we gave other people the chance to swim in a safer environment than a public environment which can be a bit overwhelming for people with disabilities."
Among the other Devon people to be honoured are Plymouth artists' agent and art dealer Monika Kinley, who has been appointed OBE for services to the visual arts.
Ann Barwood from Exmister has been awarded a British Empire Medal (BEM), for her voluntary services to Exeter Cathedral.
And Jean Bradford from Teignmouth, who is the founder of the South Devon Seabird Trust, has been appointed MBE for services to animal welfare.
Other people in the county to have been recognised in the New Year Honours list include:
OBE
Carleen Kelemen, director, Convergence Partnership Office for Cornwall and the Isles of Scilly, for services to social justice and economic inclusion
MBE
Julian Crow, regional manager, west of England, First Great Western, for services to the rail industry
Jonathan Fox, swimmer, for services to swimming
Marilyn Kelly, for charitable services in Newton Abbot
Nicholas Lewis, formerly deputy chief executive, South West Regional Development Agency, for services to the economy in the South West
Angela O'Brien, for services to drama in the South West
David Rees, aviation operational analyst, Corda Consulting, for services to defence capability
Alan Bedford Smith, chairman, Pipex Ltd, for services to the manufacturing industry
Richard Turpin, vice-chair, Hospitality Action and Chair, Ark Foundation, for charitable services to the hospitality industry
Frances White, manager, Little Haddon Residential Care Home, for services to people with learning disabilities
BEM
Michael Gee, for services to orchard conservation in north Devon
Susan Holland, for services to the community in Lydford
Diana Nicholls, for services to the community in Newton Abbot
Michael Pitt, for services to the Royal Air Force and to the community in Woolacombe
Doris Russell, for services to the community in Colaton Raleigh
Lorraine Tucker, for voluntary service to the City of Plymouth Children Fund and to the community in Devon
QUEEN'S FIRE SERVICE MEDAL
Colin Charles Rockey, group manager, Devon and Somerset Fire and Rescue Service