More farmers in south-west England seek charity's help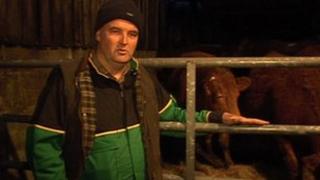 More farmers in Devon and Cornwall are asking for financial help from an agricultural charity.
The Royal Agricultural Benevolent Fund. which helps farmers facing severe economic hardship, supported 235 people during 2012 - an 11% rise on 2011.
The organisation said bad weather, disease and tight profit margins are all contributing to the increase.
It said the strain on some British farmers is as great as during the foot-and-mouth crisis in 2001.
'Extreme weather'
In Devon, the charity said it had received 25% more referrals asking for help in the county, than any other in England and Wales.
Nicholas Vincent, who farms in Dartmoor, lost his leg in a farm accident in 2004, and is among the farmers asking for help.
He said: "We would have struggled. My biggest thing was could we keep the farm."
The charity paid for a part-time labourer and assisted in the payment of an all-terrain vehicle.
Recent TB difficulties, bad weather and trade prices have added to the woes of farmers in the region, he added.
Nationally in the three months between June and August the charity paid £84,000 in emergency grants to 54 working farmers.
Head of welfare Trish Pickford said "Some farmers have simply reached the limit of their ability to juggle finances and borrow more.
"Others have suffered as a result of this year's extreme weather which led to reduced yields and incomes, and also because of substantial rises in costs for things like animal feed and fertiliser."