Exeter homeless get sandwiches after rain ends meeting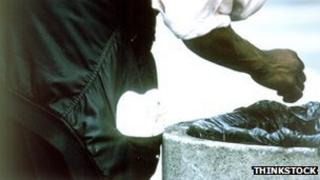 Hundreds of unwanted sandwiches were handed out to the homeless after torrential rain washed out a racecourse meeting.
Exeter Racecourse caterers handed 200 sandwiches to the homeless via charities such as St Petrock's.
Racecourse managers said Christmas was a "lovely time to be able to help people".
About 30 people are homeless in Exeter, almost three times the number three years ago.
'Absolutely delighted'
Racecourse manager Tim Darby said: "It was a huge disappointment that we were unable to stage our Christmas fixture, but at least we were able to help St Petrock's and the hostels.
"We are all now very much looking forward to our New Year's fixture."
Linda Sillifant, kitchen manager at St Petrock's said: "We were absolutely delighted and it shows the spirit of Christmas still exists.
"All the homeless here had sandwiches, we gave some to another hostel, Gabriel House, and the rest are going to the soup kitchen at St David's Church."
St Petrock's has extended its opening hours due to recent gales and rain.
"We'll also be open on Christmas Day and Boxing Day when all the homeless will be given a free meal," added Mrs Sillifant.