Colebrook could get flooding cure, meeting told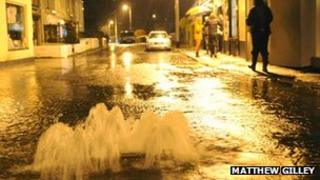 A Devon village flooded six times in the past year has been told work to tackle the problem could start in 2014.
South West Water told residents of Colebrook near Plymouth that it was working closely with Plymouth City Council to deliver the £500,000 scheme.
It will mean a gully is widened to allow water to flow to the nearby Tory Brook.
Any discharge into the brook has to have a permit from the Environment Agency.
A 2009 council report said the area was prone to flooding and needed a surface water management plan.
Plymouth City Council told a public meeting that since 2006 it had regularly cleared the gully, which meant November's flooding was slightly less severe than previous years.
South West Devon MP Gary Streeter (Conservative), who hosted the meeting on Thursday night, said: "Hopefully the scheme will make a difference.
"We are also going to set up a community action group with flood wardens to try and do everything we can locally to keep the waters at bay."