Plymouth van crash death followed police 'misunderstanding'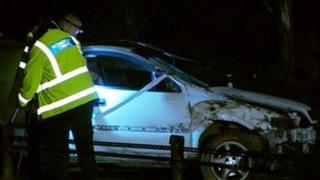 A "misunderstanding" between police meant no action was taken after a report of drink-driving before a crash in which a van driver died in January.
Police were called after two men were seen "staggering" from a Plymouth restaurant into a van but there was confusion between officers over who should deal with it, the IPCC found.
About an hour later, the van was in a crash which killed David Perrin, 29.
The police watchdog's report concluded there was no police misconduct.
'Some confusion'
The Independent Police Complaints Commission found a police community support officer (PCSO) responded to the report on 22 January of the two men getting into the vehicle outside the restaurant in Moorview Terrace.
But she did not take action because she believed police officers on the scene were already dealing with the incident.
However, they were already deployed on a firearms operation and they understood the PCSO would deal with the report.
The second man, who was a passenger in the van, was injured when it struck a crash barrier on the Cornwall-bound carriageway of the A38 near Manadon.
Naseem Malik, from the IPCC, said: "The public rightly expects the police to attend and deal with a report of a potential drink-driving offence and Devon and Cornwall Constabulary did action the call properly.
"However, a firearms operation in the immediate area the van was in led to some confusion."
'Honest mistake'
Ms Malik said the firearms officers could not get involved with the incident involving Mr Perrin because of the operation they were dealing with.
She said: "Our investigation found that the PCSO and PC misunderstood what each other would do with the report of two drunk men believed to be about to drive away.
"This was unfortunate but we found that on the balance of probabilities the two officers made an honest mistake in who they believed would take responsibility for the report involving Mr Perrin.
"My condolences go to Mr Perrin's family and friends for their loss."