Plymouth City Council blunder over child neglect report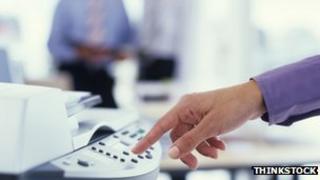 Allegations of child neglect against Plymouth parents of four were sent to the wrong family because of a council error, it has emerged.
In another case, Devon County Council mistakenly sent details of alleged criminal offences and health records of 22 people to an adoption panel.
Plymouth City Council was fined £60,000 by the Information Commissioner and Devon County Council was fined £90,000.
Both councils have given staff training on handling sensitive documents.
'Human error'
A report by the Information Commissioner said that in November 2011 a social worker in Plymouth's Children's Services had written a report intended for a local family which detailed alleged child neglect.
But a faulty photocopier in the office meant the report was printed in another office.
Before that copy was retrieved, it and a separate report were bundled together by another social worker and sent to another family.
The family realised the mistake and reported it.
The Information Commissioner's report blamed "human error" and inadequate checks on documents.
It found that the faulty photocopier was in constant use by up to five members of staff and had jammed six times in 15 minutes.
The department now had a number of new procedures including the use of staff ID numbers before documents could be printed.
A spokeswoman said: "The three pages were quickly recovered and destroyed, both clients were spoken with about the incident and our sincerest apologies were offered."
'Good track record'
In Devon, a social worker used an old case as a template for an adoption panel report they were writing in May 2011.
But a copy of the old case report was sent to the panel instead of the new one, said the Information Commissioner's report.
The mistake revealed personal data of 22 people, including details of alleged criminal offences and mental and physical health.
A county council spokesman said: "It was a mistake that simply shouldn't have happened, and we've apologised.
"We take our duties regarding data protection extremely seriously and have a good track record in this respect.
"However, we have already begun mandatory data protection training for all employees whose jobs involve handling personal data."
Information Commissioner Christopher Graham said: "Far too often in these cases, the councils do not appear to have acknowledged that the data they are handling is about real people, and often the more vulnerable members of society.
"The distress that these incidents would have caused to the people involved is obvious."