Wild boar 'spotted regularly' in north Devon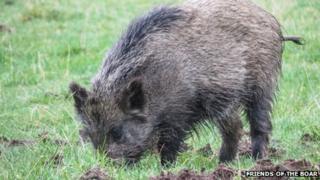 Wild boar are starting to be spotted regularly in north Devon, a wildlife observation group said.
The Friends of the Boar group said "several" sightings had been made in a year, including one boar sow with up to six piglets on Exmoor.
The boars spotted were believed to be either animals released seven years ago or their offspring, it added.
The Devon Wildlife Trust said it would "watch with interest" if such sightings developed further.
'Positive' sightings
Animal activists released more than 100 boar from a farm near South Molton in December 2005 and another 45 were set loose in a second incident in February 2006.
Despite searches by farmers and a local hunt, more then 60 were believed to have evaded capture.
Friends of the Boar said sightings died down after the animals' initial release, but that there had been "several positive sightings" in recent months.
Animals had been spotted on Exmoor and near the villages of Rackenford and Knowstone in north Devon, it said.
It added that the sow and piglets which were spotted "proves that they are breeding and making a much needed comeback to the wild".
It said the sighting reports had been "very exciting" for the group, which was originally founded in the Forest of Dean and includes conservationists, photographers and residents near boar sites.
It added: "We all know that these animals can cause a minimal amount of damage when rooting for food, but we need to look at the bigger picture and the benefits there is of having wild boar around us."
Benefits included boar turning the top layers of grass, which encouraged grass and new plant growth, bringing more wildlife, it said.
The Devon Wildlife Trust said they were a species that were "emotive" to people.
It said: "There can be impacts on people who own land and they can affect crops.
"In some areas, they can come into conflict with people. But while they remain in low densities, they can be an interesting additional feature of the country.
"We'll watch with interest how this develops."
The animals, which can weigh up to 150kg (330lbs), were native to Britain but were believed to have been hunted to extinction in the wild in the 1600s.
Those found in the wild in the south of England are thought to be descended from animals that escaped from farms.