Dartmoor second home 'destroyed' in fire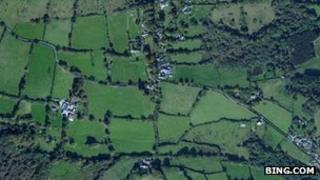 A house has been "completely destroyed" in a fire in a remote area of Dartmoor.
More than 20 firefighters were involved in tackling the fire at the property in Manwood, Manaton which started at about 10:15 GMT.
The fire service said the house, near woodland, was unoccupied at the time and the owners had been notified. It is believed to be a holiday home.
An investigation into the fire has started, although it is thought to have originated from the boiler.
Matt Johnson, from Devon and Somerset Fire and Rescue Service, said: "The building was completely on fire, all the rooms were involved and part of the roof collapsed."