Totnes Costa Coffee row: 'Some voices not heard'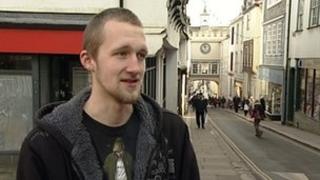 Some residents in a Devon town which forced Costa Coffee to abandon plans for a cafe have said they were not represented in the row.
Costa withdrew from Totnes after 5,750 signatures were collected against it. The firm said it "recognised the strength of feeling" against brands.
But Matt Trant, who chairs the residents group Totnes Voice, said hundreds who wanted the chain had not been heard.
Costa was unavailable to comment.
Media voice
In October Costa Coffee abandoned plans for the Fore Street cafe, which had been approved by South Hams District Council, after No To Costa collected more than 5,000 signatures against it.
Mr Trant said: "There's a lot of people either for Costa or who didn't really mind and none of them felt represented.
"It was only the people who were staunch against it that got heard and seen in the media and made out to represent the views of the majority."
Mr Trant said that in "hindsight" people should have supported the coffee chain more loudly but many felt it was "inevitable" that it would open because the plans had been approved and there was "such a small number of people protesting".
'Cloned high street'
The Conservative MP for Totnes, Sarah Wollaston, who backed the petition, said: "There was a really strong feeling that we didn't want a cloned high street, and that matters to people because one of the reasons people were coming to Totnes was because there's a different offer there."
The premises is being occupied for the next five weeks by the Devon Guild of Craftsmen in a pop-up shop called Contra. There are currently no further plans for the premises.
Totnes boasts 41 independent coffee outlets and is well-known in the South West for its "alternative" image, with a resident community of artists, writers, therapists, musicians, and herbalists.
Costa has 19 stores in Devon and employs nearly 200 people as well as sourcing local products.