Raiders smash Chagford shop window to take cash machine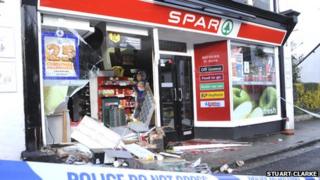 A stolen Landover was used to smash the window of a Devon shop to steal a cash machine, police have said.
Police were called to the Spar in Chagford at 03:45 GMT after the vehicle went through the window.
Officers and a police dogs unit have been involved in trying to locate three offenders.
Jason Summerfield, the area manager of Spar, said he and the owner were "tired" after clearing up but the shop had reopened at 14:00 GMT.
Devon and Cornwall Police said the offenders crime was "unsuccessful in that the machine held minimal amounts of money".
"However, the impact on the local community is significant and the damage to the business premises extensive."
The force added that the vehicle, stolen from Moretonhampstead, was abandoned in nearby farm buildings.
Anyone with information is urged to contact the police.