Exeter drafts in crowd control experts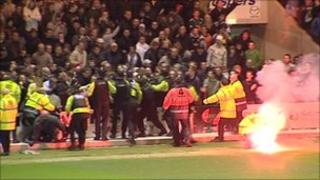 Police experts in crowd control and extra train carriages have been brought in to Exeter to help with the large number of people expected in the city.
Both Exeter City Football Club and Exeter Chiefs are playing at home and it is expected to be the busiest shopping day of the Christmas period.
Several police officers from South Wales have been brought in to monitor the sports crowds in case of trouble.
First Great Western (FGW) said trains in the city would be "inevitably busy".
Julian Crowe, FGW regional manager, said: "We've got the usual plan in place to call more trains in at St James' Park and to put additional vehicles on trains, we've got three and four carriage trains where we can."
Derby trouble
About 7,000 fans are expected to attend the derby between Exeter City and Plymouth Argyle at St James' Park.
In 2010 more than 20 people were arrested at the first Devon derby between the two clubs in eight years.
Exeter City's chief executive Julian Tagg said: "We've had three games since then which have gone off with no problems.
"Nobody is quite so worried as previously as long as everybody is cautious and vigilant."
Keiron Northcott, deputy Chief Executive at Sandy Park, said up to 10,000 people were expected to watch the Heineken Cup game between Exeter Chiefs and Scarlets.
He said: "We do say to people we provide additional entertainment at the club, and for people not to all rush off away if they don't have to."