Breached Grand Western Canal to be restocked with fish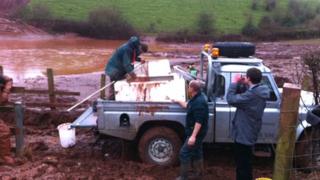 A canal which suffered a "catastrophic" breach during heavy rain last month is to be restocked with thousands of fish.
The Environment Agency said pike, eels, perch, bream, tench and roach were lost when part of the Grand Western Canal collapsed at Halberton in Devon.
The fish were swept into a field which then flooded. So far, 400 have been rescued and returned to the canal.
The agency said it would order about 2,000 of each fish every year until the canal was considered healthy.
'Most challenging' rescue
About 25 people from the agency and Tiverton Angling Club were involved in rescuing the fish.
They say hundreds remain in the field and many will not survive much longer. A final rescue attempt is due to take place on Monday.
The new fish will come from the agency's national fish hatchery at Calverton in Northamptonshire, which was set up with the specific purpose of replacing fish lost through pollution and other incidents.
Nick Maye from the Environment Agency said: "The decision to restock is important because it will speed up the recovery of the fish population.
"It was by far the biggest rescue we've ever attempted and the most challenging.
"Soft mud and sub-zero temperatures made it extremely difficult to deploy our nets, but we did manage to catch around 400 fish and safely return them."
Devon County Council, which owns the Tiverton canal, has installed two temporary dams to prevent further loss of water.