Colebrook floods: Little Christmas cheer for victims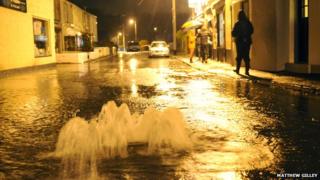 The weather has always been a great topic of conversation for the British.
But a month after prolonged and persistent rain swamped Colebrook village in Devon little else is talked about, although any jokes about Noah and his ark are more likely to be met with a grimace rather than a smile.
For many of Colebrook's residents two floods in two days put Christmas preparations well and truly on hold.
"It's hard to think about presents, trees and parties when you're trying to get sorted," one flood victim said.
The timing could not have been worse for David Mitchelmore, the landlord of the Colebrook Inn, and while no business wants to lose trade, the flood damage from foul water has kept the pub closed at what is traditionally the busiest time of year.
The saturated cob walls will take several weeks to dry out, new floors will have to be laid and the commercial kitchen will have to be professionally deep cleaned before redecorating can be done.
"At the moment we're still emptying about 30 litres of water from the dehumidifiers every two to three days," Mr Mitchelmore said.
"I'm going to be closed until 25 January at the earliest - so Christmas just won't happen here.
"December is the biggest month of the year and I was fully booked with functions and parties and it's all gone.
"It's not just the pub, this has affected the whole community and we have to get it sorted because this is devaluing our homes and businesses."
Some residents have been unable to return to their homes and will be spending the festive period in temporary accommodation or with relatives.
Others, however, have chosen to remain at home as the drying-out process continues.
"It's a mess, but for me it's better than the alternative of having to move somewhere I don't know," one resident said.
"As for Christmas - well, there will be no Christmas for me.
"When I look around me it's heartbreaking, so I don't feel much like celebrating. I think I'll just let it pass me by this year."
Colebrook was not flooded by a river bursting its banks. It was the sheer volume of rain which overwhelmed its Victorian combined drainage system.
At a packed - and sometimes heated - public meeting on Thursday night, South West Water and Plymouth City Council told residents work to alleviate the "complex" reasons for flooding should be carried out in 2014.
Whatever the cause of the flooding, however, the results for residents and businesses are the same - disruption, mess, loss of earnings and a "gnawing" worry about it happening again.
Catherine Stapp, who lives and works in the village, said: "It's absolutely devastating. We got off lightly compared with others but we've still got the sandbags out and we're constantly worried.
"You lie there in bed and it keeps gnawing at you. You know you've got to go down and check to see if it's started coming up the garden."
Like many other flood-hit communities, neighbours rallied round to help bale out homes and gardens as the flood waters rose.
Sharon Serpell, who only moved into her cottage with her husband Anthony at the end of September, was out when the second flood hit the village.
"We'd still got the sandbags from the Thursday and when I rang Anthony from work at teatime he told me it was all fine," she said.
"But just after I finished work at nine he sent me a text which said 'things not very good here princess'."
Mrs Serpell said that not only did strangers turn up to help, a police car flagged down a council drain cleaning vehicle for assistance.
"When things were a bit more under control, Anthony and the others went to help our next door neighbours," she said.
"I don't want it to happen again, but despite everything I don't regret moving."