Torquay seafront road closed in flooding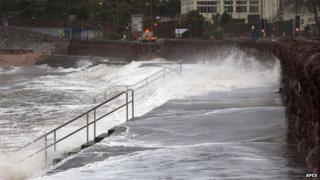 The seafront road in Torquay was closed because of flooding after a night of heavy rain.
The road was reopened later and First Great Western train services resumed on the track at Dawlish after flooding led to cancellations.
Flooding also affected a number of shops in Bridge Street and Mill Street in Kingsbridge, south Devon.
Flood warnings are in place for several areas of south Devon, including Aveton Gifford, Salcombe and Kingsbridge.
Taxi driver Nick Sord, 50, from Kingsbridge said: "It was worst at high tide this morning when the sea was topping the quay.
"It's easing off now and the rain has stopped but there's still a lot of water on the roads around the town."
Forecasters said the heavy rain would spread east on Friday.
Trains which follow the coast line at Dawlish were disrupted for more than a week in November by flooding and a mudslide.
Passengers' groups have called for a solution on the line which connects Devon and Cornwall with the rest of the country.