Water coolers installed at Devon pubs and clubs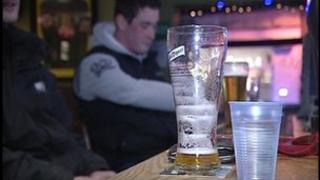 Water coolers have been installed in some pubs and clubs in Devon in a bid combat the effects of alcohol.
The coolers have been positioned at 47 venues and will remain in place for a year in the hope of slowing intoxication and dehydration.
The scheme is based on a pilot in Gloucester which saw an 80% drop in public disorder incidents at one club.
It is hoped that if Project H20 is successful it will be expanded.
Less 'intimidating'
Sgt Richard Crosby, from Devon and Cornwall Police, said: "Drinking water as well as your alcoholic drinks modifies the effect of alcohol, it acts as a diuretic and basically helps you to enjoy your evening without getting too over the top."
Gloucestershire Constabulary said it installed water coolers in one club in Gloucester before Christmas 2011 and after seeing a decrease in incidents was now rolling the scheme out across the force area.
Glenn Duff, landlord of Jack Chams in Tavistock, said: "I think it's a great idea running up to Christmas, anything that helps against anti-social behaviour."
Customer Jimmy Holt-Martyn said: "It takes away the intimidation effect of actually going to the bar and not ordering alcohol so hopefully it will help people have a better night."
The scheme, which has so far cost £11,500, is being supported by Devon County Council, Community Safety Partnerships and Devon & Cornwall Police.