Pop-up shop takes Totnes Costa premises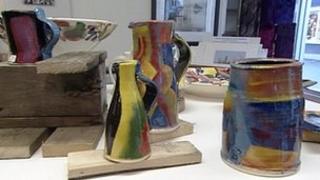 A collaboration of 50 craftsmen have opened a pop-up shop in the building Costa Coffee pulled out of in Devon.
The Devon Guild of Craftsmen will take the property in Totnes for six weeks after members said it was too expensive to rent premises individually.
Costa withdrew after 5,750 signatures were collected against the shop and said it "recognized the strength of feeling" in the town.
Contra will occupy the Fore Street premises for six weeks.
'Empty again'
Ben Siegle, from Contra, said: "We want to do something positive and we think there's a chance to generate interest in what's going on here.
"It's more about a different way of thinking about the High Street rather than being against anything."
But Take Back Totnes creator Matt Trant, who supported Costa, said: "Even thought it's [Contra] in there and it's a good thing that there's local craftsman in there, it is technically still empty.
"They're only going to be there for six weeks and then it's going to be empty again."
Totnes prides itself on having unique shops and boasts 41 independent coffee outlets.
It is also well-known in the South West for its "alternative" image, with a resident community of artists, writers, therapists, musicians, and herbalists.
Costa currently has 19 stores in Devon and employs nearly 200 people as well as sourcing local products. It has more than 1,390 shops across the UK, employing more than 10,000 staff.
The coffee chain abandoned plans to open a shop in Totnes in September despite South Hams District Council having approved its application.