Torre Abbey restoration on track for early completion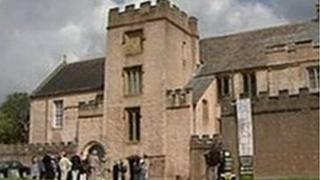 Restoration work on a monastery dating back to 1196 is expected to be completed six months ahead of schedule.
The £4.7m Torre Abbey project in Torquay, Devon, started in January with an original completion date of 2014.
But Torbay Council said it was predicted the restoration would now be completed in the summer and within budget.
The Grade I and Grade II listed buildings are described as being involved in "epic moments of history".
As part of the restoration, the abbey's top floor is being made into a gallery which will display items relating to its 800-year history, with new learning spaces created for educational groups to use.
'Top attraction'
The work has also included repairing and stabilising the roof and masonry using traditional materials and skills such as lime rendering and ancient monument conservation.
A spokesman for Torbay Council said: "The restoration is really important for the abbey and the local area as it will make it a top South West attraction, as well as a venue used for community and education purposes."
The abbey, listed as an ancient monument, includes the Spanish Barn, which was built to store taxes in the form of grain and hay, and also houses an art collection including pieces by William Blake.
Mayor of Torbay Gordon Oliver said: "It is one of the best buildings in the country to tell the story of 800 years of Catholicism between 1196 and 1930.
"The restoration will tell these stories but also other important local stories and milestones in history."
The abbey has been closed to visitors since the restoration began, but the council said it had not had any adverse effect on the number of visitors to the gardens, which remain open.