Plymbridge Woods off-road cycle trail plans approved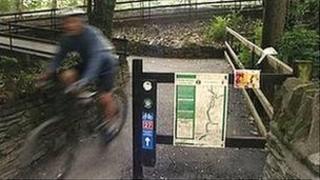 An off-road cycle route through ancient woods in Devon has been approved by planners.
The National Trust will create the 2.5 mile (4km) single track at Plymbridge Woods in Plymouth.
Opponents said parts of the woods could become "no-go zones" for walkers, but a Plymouth City Council planner described the claim as "scaremongering".
Councillor Bill Stevens said the evidence showed the cycle track would enhance the area rather than spoil it.
'Toxic mix'
"The idea of massive tarmac and speeding bikes dangerously knocking into innocent pedestrians is, I think, scaremongering," he told BBC News.
But local resident Arthur Ainslie from the Friends of Plymbridge Woods said putting a mountain bike trail through an ancient woodland would be a danger to other users and have an adverse affect on the environment.
"This is an open public wood and these cycle trails will criss-cross walking trails and we believe that's a toxic mix," he said.
The National Trust, which had scaled down its original plans for nine miles (15km) of trails, said it was "thrilled" to get the green light from city planners.
John Longworth-Krafft, the trust's assistant director, said: "We believe that this off-road cycling trail at Plymbridge will really add to the enjoyment of these beautiful woods for those that cycle there already and for new audiences too."
When completed, it will link to route 27 of the National Cycle Network.
The existing car park at Plymbridge Woods will also be extended to provide space for up to 90 cars and the work, which is due to begin in February or March, will be funded through the Rural Development Programme for England and National Trust funds.