Destroyer HMS Defender adopts Exeter City FC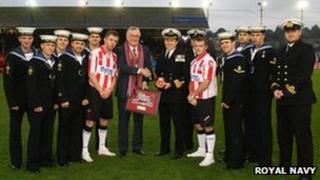 A Devon football club has been adopted by a Royal Navy destroyer and its crew.
Type 45 destroyer HMS Defender had become a partner of Exeter City FC, the navy said.
Wherever the ship travelled in the world its football team would play wearing Exeter shirts as a badge of the affiliation, it added.
HMS Defender, one of the newest ships in the navy, is undergoing sea trials and training before joining the operational fleet in 2013.
Club chairman Edward Chorlton has been given a guided tour of the ship and presented the ship's football team with a complement of Exeter City shirts.
Member of the ships crew - including its captain, Commander Phil Nash - have also visited Exeter's ground, St James Park.
The 150m (500ft) long Portsmouth-based ship has a crew of 190.