James Reading sentenced for air cadet sex abuse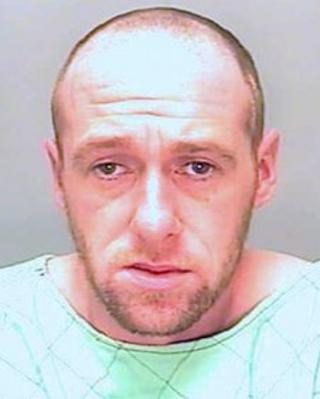 A 35-year-old air cadet sergeant from Plymouth who sexually abused two girls he was responsible for has been jailed for 10 years in his absence.
Sgt James Reading skipped bail ahead of his trial at Exeter Crown Court, which heard he molested the two cadets, aged 14 and 15.
Reading abused them on night exercises on Dartmoor and at illegal under-age drinking parties, the court was told.
Police are now looking for Reading, who the judge described as "dangerous".
The court heard that Reading, who had been in charge of about 30 air cadets, abused one girl during a sleepover the night before a Remembrance Day parade and another after telling her she might be promoted.
Judge Erik Salomonsen said: "In my judgment he is a dangerous man, particularly when in drink and in a position of responsibility with access to children."
International search
Reading was cleared of sexually assaulting a 16-year-old cadet and raping a former girlfriend.
Before failing to answer bail in June, Reading, of Knighton Road, had denied eight charges of sexual activity with a child or inciting a child to take part in sexual activity.
Speaking after the hearing, Det Con Chris Amey said: "We have some evidence he has gone to France and we may involve international agencies."
The Ministry of Defence (MoD) said it was reviewing some of its practices, but said it had carried out a Criminal Records Bureau check on Reading and was aware of his previous criminal damage and domestic assault convictions.
A spokeswoman said: "Having a criminal record will not necessarily bar someone from volunteering with the Air Cadet Organisation (ACO). It depends on the circumstances and background of the offence.
"Now this case has concluded, an assessment will be made to determine if a further inquiry is required. The ACO will review its policies in light of this case."