Gary Streeter: Dropping of sex abuse case 'disgraceful'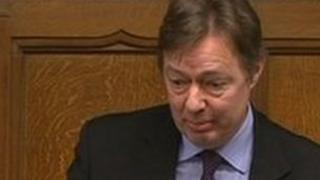 A decision by the Crown Prosecution Service to drop a child sex abuse case is "disgraceful", a Devon MP has said.
Conservative MP for South West Devon Gary Streeter spoke in the House of Commons about the case of Geoffrey Genge, 68, of Mutley, Plymouth.
He was charged in 2011 with five offences of rape and sexual abuse between 1957 and 1961, which he denies.
Prosecutors dropped the case this year because they said it would be difficult to ensure he got a "fair trial".
'Suppressed the damage'
Mr Streeter claimed in the House of Commons - using parliamentary privilege granting his remarks legal protection - that prosecutors had believed they had a realistic prospect of conviction.
But he said the case was dropped after they learned that Mr Genge's defending team was preparing an "abuse of process" defence, saying too much time had passed since the alleged offences.
Mr Streeter told the Commons: "My constituents were abused as girls. They suppressed the damage and the injustice of this for 50 years.
"They discovered that others had suffered the same fate and plucked up the courage to come forward.
"The police believed them, the CPS believed them. The case started, the proceedings were issued.
"Nothing changed except the CPS discovered a law they should have known about at the time the proceedings were commenced and the case was dropped."
Mr Streeter, a trained lawyer, took up the case after being approached by one of the alleged victims.
In reply, Solicitor General Oliver Heald told the Commons that the decision to abandon the case was taken "reluctantly".
He said: "The CPS was mindful of the distress it could cause the complainants, but it does not follow from the decision that the complainants were or are not believed.
"Put simply, the decision was taken because in this particular case the passage of time may have undermined the fairness of the proceedings on the individual facts of the case."
He added: "Although it is not possible to reopen the case, I will ensure that these matters are drawn to the attention of the director of public prosecutions."
Mr Streeter said he had not given up his fight and is to discuss the case with the Chief Crown Prosecutor for the South West, Barry Hughes.
Mr Genge's legal team has yet to comment.