Nick McKinnel ordained as Anglican Bishop of Crediton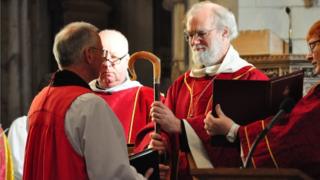 Devon's new bishop has been officially consecrated in a ceremony conducted by the outgoing Archbishop of Canterbury.
The Right Reverend Nick McKinnel - the former rector of the Minster Church of St Andrew in Plymouth - was ordained as the Anglican Bishop of Crediton at Southwark Cathedral.
The appointment was announced by the Diocese of Exeter in October.
Bishop McKinnel, 58, has taken over from the Right Reverend Bob Evens who has now retired.
He said the ordination, in front of friends, family and fellow clergy, had been "moving" and while he felt privileged to be chosen, his new role of Bishop of Crediton would take "a little time to get used to".
'Bowing' joke
"It was a lovely service, but you feel like a rather small individual in the middle of it all," the Bishop told BBC News.
"I don't feel different, but I do feel commissioned to get on with the task that bishops have to do and I'm looking forward to getting out around the parishes."
The Archbishop of Canterbury, Dr Rowan Williams, said Bishop McKinnel was a parish priest with great experience who was ready to face his new challenge.
"He's widely loved in Devon and he knows the territory, he knows the people and he knows the culture of Devon," Dr Williams said.
"I think he'll be a wonderful bishop."
Bishop McKinnel's son James said he father had jokingly told the family they would have treat him with new respect.
"He says we have to bow to him as we come down for breakfast... but I'm not sure that's going to happen."