Grand Western Canal breach repairs discussed at meeting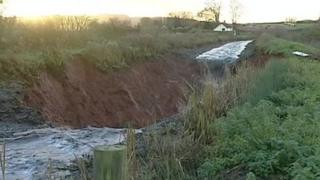 Plans are being drawn up to repair the Grand Western Canal in Devon after a section of the canal's bank collapsed during heavy rain.
Twenty homes had to be evacuated last month because of the breach at Halberton.
Residents attended a public meeting on Saturday to discuss how to fund repairs to the canal, which could cost several million pounds.
The Halberton stretch of the canal was opened in 1814.
It closed as a commercial waterway in 1925 but since 1971 it has been restored as a country park and forms part of the West Country Way cycle route which runs from Padstow to Bristol.
Passenger rides on a horse-drawn boat have made the canal a popular tourist attraction in the summer months.
Ken Browse, chairman of Halberton Parish Council, said between 150 and 200 people "packed out" the meeting in the village hall.
"It was a positive meeting and the fantastic turnout just goes to show how much people care about this canal," Mr Browse told BBC News.
Geologists have told Devon County Council, who bought the canal in 1971, that much of the bank material from the breach can be reinstated, helping to keep down costs.
The council has pledged £10,000 from its sale of Exeter Airport five years ago for the repair fund.
"That's a really good kick start and just what we needed," Mr Browse said.
It is hoped there could be funding from central government and Mr Browse said he has raised the matter with Communities Secretary Eric Pickles.
The canal will celebrate its bicentenary in 2014 and it is hoped the repairs will have been completed by then.
"We've already got plans in hand to celebrate the bicentenary and that gives everyone a focus to work towards," Mr Browse added.
Robert Hodgson from the Friends of the Grand Western Canal said repairing the "catastrophic" damage to the canal was essential.
"It is mid-Devon's premier tourist attraction and on any given weekend you'll have people here from all over Devon and during the summer they come from around the country," he told BBC News.
"The canal is nearly 200 years old and nothing like this has happened, so it's a really big challenge.
"This canal is unique - it was the first canal anywhere in the world to have vertical lifts instead of locks, so from a historical point of view, this is a very interesting canal."
The Friends group has set up a donation page on its website to help raise money, but Mr Hodgson said even before that was done, cheques had started coming in.
Mr Hodgson said while it was too early to say exactly how much the repair bill will be, but a similar breach on the Trent and Mersey canal in September is expected to cost £1.5m.