Exeter homeless 'devastated' over Michelle Conroy death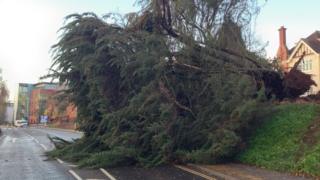 Tributes have been paid to a woman who was sleeping rough when a tree fell on her tent during a storm.
Michelle Conroy, 21, was killed when the spruce came down on Saturday night in Western Way, Exeter.
Two other men, aged 27 and 35, were injured in the incident.
Ms Conroy died in hospital from her injuries. She was a regular visitor to the Friday Night Cafe at St Petrock's Church where other homeless people were "devastated" by the news.
'Not typical'
The Rev Canon Anna Norman-Walker, a Diocesan Missioner at Exeter Cathedral, said: "We get about 40-50 through the cafe on a Friday night - they are all shocked.
"The striking thing about Michelle was that she was not typical, there was no drugs addiction, no mental health or alcohol issues.
"She was a kid of 21 and this was her community."
She said that Ms Conroy had been "in and out of foster care" and alternated between sofa-surfing and rough sleeping.
"The unique thing about the homeless in Exeter is that they are a large group, but centre around the same support network and are very supportive of each other.
"They all go to the same soup kitchen. This was her family."
Devon and Cornwall Police called Ms Conroy's death a "tragic incident".
Ms Conroy's partner David Browning, who was among those injured, wrote on Facebook: "RIP babygal I will never ever forget you.
"You will always be the first gal I ever loved and you will always be in my heart but it should never have happened to you.
"You were too young we still had a whole life to live together."