Abseilers inspect Devon railway line landslip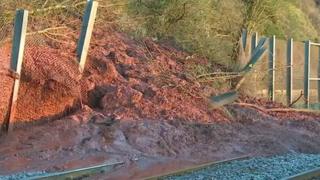 Engineers had to abseil about 80ft (25m) down a cliff to examine a Devon rail line which was closed after a landslip.
Network Rail staff had to leave the scene in Teignmouth after further mudslides made it too dangerous to inspect on foot.
The area was closed on Wednesday after mud slid on to two lines linking Exeter and Plymouth.
Network Rail said abseiling was the only way to carry out a survey.
Transport resilience
Contractor Amco brought in the specialist abseilers to assess the landslip.
The infrastructure owner said it was hoped work to repair damage caused by the landslip would enable services to resume on Saturday.
Network Rail said once engineers had removed the mud, rubble and debris and made the line safe, trains would resume at a reduced speed.
Meanwhile, a passengers' group has called on the government to establish a transport resilience task force for south-west England.
TravelWatch SouthWest said the call was a reaction to the flooding which resulted in Cornwall, Devon and Somerset being cut off from London and the wider rail network for several days.
The watchdog said more robust plans were needed to improve infrastructure and service management.
Limited services
It said such a task force should include Network Rail, train operators, local authorities, local enterprise partnerships and key stakeholders representing business and users.
The main line from Exeter to the rest of the country has reopened.
However, it could be another two weeks before services were completely back to normal, Network Rail said.
Flooding has also affected the line between Exeter and Barnstaple, with buses replacing trains.
There is also a limited train service between Exeter and Yeovil, with buses supplementing the train service.
Full details of affected services are on the National Rail website.