Devon hospitals report serious surgical errors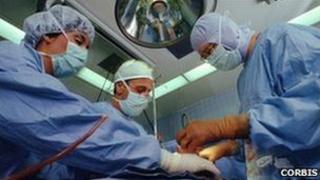 Devon's four main hospital trusts each made at least two serious surgical errors this year.
The so-called "never events" included three at Plymouth's Derriford Hospital.
A foreign object was left in a patient, surgery was carried out on the wrong area of a patient's body and a wrong dose of insulin was administered.
The Royal Devon and Exeter, Northern Devon Healthcare and South Devon Healthcare trusts each reported two never events.
'Foreign object'
At the Royal Devon and Exeter NHS Foundation Trust, one event involved surgery being carried out on the wrong body part and the other involved a misplaced tube.
The trust said it had closed its investigations into the events.
The Northern Devon Healthcare NHS Trust said no harm had been caused to the patient in each of its two cases.
It said the people concerned had received an apology and full investigations had been carried out.
At Torbay Hospital, a wrong implant or prosthesis was used during a procedure. The second incident related to a "retained foreign object post-operation".
These are the only never events ever reported by the South Devon trust.
The trust said both incidents "were swiftly and safely rectified, with no impact upon the individual patients' long-term health".
'Put in safeguards'
Last year, Derriford Hospital was warned by the Care Quality Commission (CQC) that it must improve safety or risk prosecution after six never events within a year, including swabs being left in four patients.
The Plymouth Hospitals NHS Trust, which carries out more than 40,000 operations a year and of which Derriford Hospital is part, said it had investigated the events and had put in safeguards to prevent such things happening in the future.
It added its investigations were always subjected to external scrutiny by organisations such as the Strategic Health Authority and the CQC.
Never events are defined by the CQC as serious, largely preventable incidents which should not happen.
Although they are rare, they are serious enough that each requires an investigation.