Devon partly reconnected to main rail network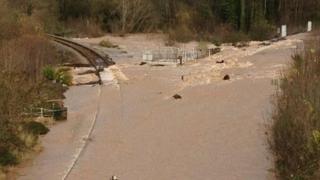 Devon has been partly reconnected to the main rail network.
Repairs to one line east of Exeter meant some trains would run to Waterloo on Tuesday, nearly a week after flooding damaged several stretches of rail line, South West Trains said.
It said services would be limited and take longer.
Prime Minister David Cameron paid a visit to Buckfastleigh, south Devon, where nearly 30 homes were flooded.
'Incredibly steadfast'
Arriving by helicopter, he visited two householders, mother-of-two Musky Kendall, 48, and her neighbour James Rice, 32, who had been forced to move out of their homes after flooding.
He said: "It's obviously very traumatic when communities are hit by floods like this.
"What I have found is people who are incredibly steadfast, who behaved incredibly bravely in handling the floods and now we need to help them with the recovery.
"We have to make sure the insurance pays out, the Environment Agency puts in good flood defences and make sure there are better warning systems."
Mr Rice, who rents a cottage that backs on to the river, said the flood water nearly burst through his rear garden wall, rising almost 10ft.
He said: "The water just rushes straight off Dartmoor into the river, which is one of the fastest rising and falling rivers in the country."
Disruption to the main line via Exeter's Cowley Bridge continues. A new landslide has also affected services between Plymouth and Exeter.
The Plymouth-Exeter line has been closed at Teignmouth because of wet mud falling on the tracks.
Network Rail said it was sending a team to clear tracks to allow trains to travel in both directions on the one remaining track.
It said work was ongoing to restore the Exeter-Taunton line, with engineers possibly completing some repairs on Tuesday afternoon.
There would be limited signalling in operation, restricting services to two trains per hour in each direction, it added.
There are no flood warnings in force in Devon, the Environment Agency said.
Business organisations and MPs said they were raising questions as to how good Devon's transport network was in times of extreme weather.
Charles Howeson, chairman of the Plymouth Area Business Council, said: "I do wish we could have the right investment down here to make sure that our strategic communications are resilient.
"We continue to have problems in terms of infrastructure, resilience and [transport] starvation."
Torbay MP Adrian Sanders told the House of Commons on Monday that the weather showed how easily transport in Devon could be adversely affected, "particularly Cowley Bridge to Paddington... and roads across Devon that were cut off".
The Environment Agency has advice on its website for those who have been affected by flooding.
Devon County Council said it would be sending gritters out at 01:00 GMT and possibly 06:00 on Wednesday as temperatures are expected to drop below freezing.
Cabinet member for highways and transportation, Stuart Hughes, said: "Obviously with all the recent flooding and so much water running off from the surrounding land, freezing temperatures could bring extremely icy conditions."
He added: "Whilst the gritters will be out in force, don't assume a road has been treated."