Devon WI group in pole dancing session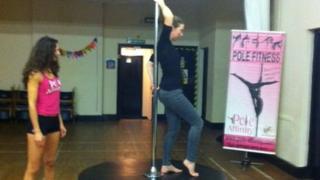 A Devon branch of the Women's Institute ditched its usual activities for a pole dancing session.
The group from St Giles in the Wood near Great Torrington said the one-off session had been a popular addition to their programme.
Members discussed including pole dancing when the group was created a year ago.
"We want to buck the trend of what the traditional WI is," said secretary Emily Pulleine.
'Such a laugh'
The WI group was created by young women with young families.
Ms Pulleine said the pole dancing demonstration at the village hall was initially thought up as a "running joke, just to shock everyone".
She said: "The most surprising thing was how enjoyable it was. I thought I'd feel a lot more self-conscious than I did.
"I also thought it was something for sleazy nightclubs for the entertainment of sleazy men, but it didn't feel like that at all.
"We want to be doing things, not just sitting listening to somebody speak and tell us things."
President Kate Corbin said: "We always have such a laugh at our WI sessions. I knew it was going to be good fun.
"We have had nothing but positive vibes from the WI and the Devon federation."
Knitting and making jam have not been dropped from the WI's events.
But, a session on a rock climbing wall has been pencilled in for next year.