Exeter 20-foot wall collapses during heavy rain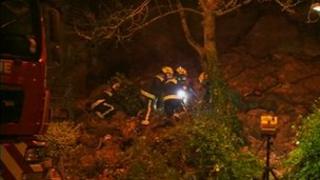 A 20 foot (six-metre) wall has collapsed during stormy weather in Exeter.
The wall, near St David's Hill, came down at 20:20 GMT as wind and rain continued to batter the south-west of England.
A sniffer dog was used to search the area to see if anyone had been trapped, and a number of residents were evacuated from their homes.
The fire service said initial searches indicated there was nobody trapped.
The wall collapse caused hundreds of tonnes of rubble to fall.
Mal Swallow, from the fire service, said: "We're doing everything we can. Our initial search using our specialist rescue dogs has indicated there's nobody under there.
"But when we get our heavy equipment here, we'll be able to dig it out and double check."
Structural engineers from Exeter's council are assessing the area.