Doors open at Exmouth Community Larder food bank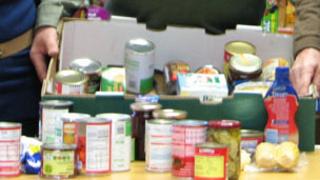 An emergency food bank for local people in crisis is being launched later in Devon.
The Exmouth Community Larder is being run by volunteers from churches in the area.
The facility will be open from 14:15 GMT until 16:15 GMT on Mondays and on Fridays to provide up to three days supplies for people.
The community larder will be based at the Salvation Army Hall on Sheppard's Row in Exmouth.
Anthony Bernard, the manager of the food bank, said: "Food will be provided to individuals and families who have been referred by one of the many agencies supporting people who have problems making ends meet.
"Our challenge is to be made aware of those people most in need who are reluctant to ask for help."
The food bank will be officially launched a 14:00 GMT.