Exeter Citizens' Advice Bureau sees benefit inquiries rise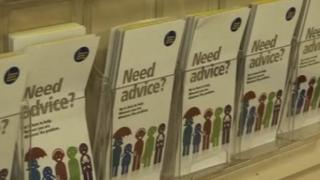 The number of people asking for help with welfare benefits and tax credits has risen by 17% in the Exeter area of Devon.
The figures, from the Citizens Advice Bureau (CAB), cover the six-month period from April to October.
The charity said it had also seen a 13% rise in people with debt problems.
Chief Executive Steve Barriball said the increase showed how the current economic situation was affecting individuals and families.
"This is evidence that the human impact of the ongoing economic difficulties are far from over for people who have lost their jobs or their homes, or both," he said.
Mr Barriball said although there had been a fall in the number of inquiries about housing, employment and relationship advice, the number of people asking the CAB for help had risen by 5% to more than 2,000.