New £2m PDSA pet hospital opens in Devon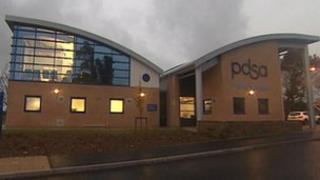 A £2m pet hospital, which will provide free veterinary treatment for pets with owners on benefits, has opened in Devon.
The facility replaces the People's Dispensary for Sick Animals' (PDSA) previous hospital in Durnford Street, Plymouth.
It is expected that the new hospital will treat more than 100 pets a day and cost the PDSA about £1m annually.
The previous facility was closed as it could not cope with patient numbers.
Robert Newcombe, a PDSA senior veterinary surgeon at the new service, said: "The improved facilities will help us make an enormous difference to the lives of so many local people and pet patients."
The new centre will provide 55,000 treatments annually, including emergency operations and preventive procedures such as vaccinations.
The hospital was funded entirely by public donations as the PDSA does not receive government or lottery funding.