Costa's Totnes pull-out 'provoked fury'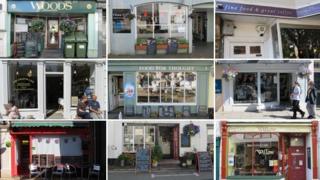 Costa Coffee's decision to drop plans to open in Totnes has led to a war of words in the town.
Campaign group No To Costa collected 5,750 signatures against the plan, which prompted the firm to pull out last month.
The coffee chain's plan would have caused "irreversible damage" to the town, campaigners said.
However, one independent coffee shop owner said its decision not to move in left other people "furious".
Costa announced that it was not going to open in Fore Street because it had "recognised the strength of feeling" against national brands in the town.
'Watershed' moment
They had responded to the likes of eco-charity Transition Town Totnes (TTT) which, after backing the campaign against Costa, has been accused of going beyond its aims.
TTT said Costa's application was "a watershed in the development of the town, which if unchallenged, could result in irreversible damage to both the distinctive nature of our town and our local economy".
The group rejected its critics, saying the campaign was "completely in our remit" as part of its project to promote local food production and consumption.
It began in 2006 "as a response to the challenges our community is facing from diminishing oil and gas supplies, coupled with climate change and economic uncertainty".
However, Eve Macadie, who runs an independent coffee shop in the town, said: "I wasn't for or against Costa, but I think TTT stepped over the mark and should have stayed with the peak oil issue.
"No To Costa was nothing to do with the energy campaign."
Costa's decision, she said, had affected young people in the town who wanted jobs and a meeting place.
"A lot of people were furious after Costa pulled out," she said.
'People felt cheated'
A Facebook page has been created "for all those against the narrow minded people at Totnes transition town that seem hell bent on sending Totnes back to the stone age".
Take Back Totnes creator Matt Trant, said: "TTT acted as if it was representing the majority in the town but it wasn't.
"I hardly bumped into one person that was against Costa and I have lived here 21 years.
"A lot of people felt cheated."
TTT manager Frances Northrop said: "TTT's real concern was that [Costa] would damage the local food economy, not only closing several coffee shops but also having a knock on to the local suppliers they might use.
"Our Food Link project aims to do the opposite by promoting the growing of local food for local people.
"Objecting to Costa was completely in our remit."
She added the owner of the shop that Costa had been due to move into was letting it in the run-up to Christmas to a leather crafts maker.
'Maintain individuality'
National clothing brand Crew is also planning to open in Totnes, but Ms Northrop said TTT would not be objecting.
"These concerns which spurred TTT to be involved were not there with the question of clothes shops," she said.
No to Costa said on its website: "We're disappointed to hear some are unhappy with Costa's decision but appreciate their right to a different opinion.
"Here's hoping we can agree on this, it's time to move forward."
Mayor Pruw Boswell-Harper, who welcomed Costa's decision in October, said: "It wasn't Costa per se that we objected to. It was a change of use from retail to yet another food outlet.
"There are enough food outlets and we wanted to maintain the individuality of the town."