Plymouth NHS acupuncture service petition reaches 1,200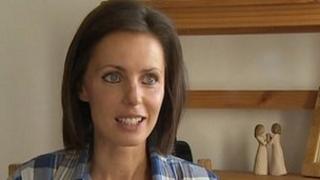 More than 1,200 people have signed an online petition to save an acupuncture service based at the maternity unit at Plymouth's Derriford Hospital.
Plymouth Hospitals NHS Trust said there was no official evidence to support the use and because of changes to funding it had to prioritise services.
Supporters said it was a safe and effective method of treating some conditions such as morning sickness.
The trust added that the service would still be available but not on the NHS.
In October, the BBC learnt the NHS had decided to withdraw the service - set up 25 years ago - due to a lack of money.
'Huge benefits'
Kerry Dungay, from Plymouth, used the acupuncture service after suffering from hyperemesis gravidarum, a severe form of morning sickness.
"I think it gives women a sense of wellbeing and it improves their pregnancy experience.
"For me the service was a lifeline."
Di Gibson, who is a former midwife in Plymouth, said: "There are women who have used acupuncture in the past and found it very beneficial who will not be able to use it in the future.
"I can certainly say that the vast majority of women who I referred for acupuncture had benefits, some huge benefits."
'No evidence'
A spokeswoman from Plymouth Hospitals NHS Trust said that previously it received money from the commissioners for every acupuncture treatment it gave.
Dr Imogen Montague, the lead consultant at the maternity unit, said: "We cannot continue to provide this service on the NHS because we do not have the financial envelope to pay for this as well as essential core services.
"The service will still be available but not on the NHS."
In 2011, 69 patients had at least one appointment with the acupuncture service out of a total of more than 5,000 women who used the maternity unit.
Dr Montague added that not everyone benefits from acupuncture.
A trust spokeswoman said: "There is no evidence recognised by the National Institute for Health and Clinical Excellence (NICE) to support the use of acupuncture in pregnancy and childbirth."