ELO cellist Mike Edwards hay bale death: Farmers cleared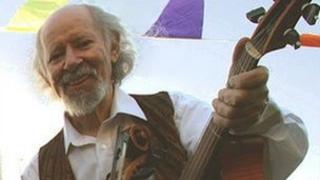 Two farmers have been found not guilty of health and safety offences after a giant hay bale crushed former ELO cellist Mike Edwards to death.
He was killed instantly when the 600kg bale rolled down a field and landed on his van near Totnes in Devon.
Brian Burden, 46, of Halwell, and Russell Williams, 23, of Blackawton, both denied failing to make a suitable risk assessment.
Mr Edwards, 62, was driving on the A381 in September 2010 when it happened.
Plymouth Crown Court heard the former ELO musician was working for a water delivery firm at the time of the accident.
'Suitable measures'
The court was told Mr Williams was a self-employed contractor who had been baling up cut grass for silage on Mr Burden's farm on the day of Mr Edwards's death.
Mr Burden used to do the job himself but had started contracting the work out to Mr Williams some years before.
Mr Williams told investigators he had left the bale "halfway down the field" on a clear, dry day, the court heard.
Robert Lowe, prosecuting, told the court that the manufacturers of balers, the machines used to compress raked crops into bales, said those using the equipment should take "suitable measures" to eliminate the risk of bales rolling or tipping over.
Both defendants told the court a bale should be ejected "across a slope" to stop it from rolling away.
In March 2011 in Plymouth an inquest jury returned a verdict of accidental death on Mr Edwards.
After that hearing his family called for new safety rules to prevent similar tragedies.