Cigarette beach campaign launched in Devon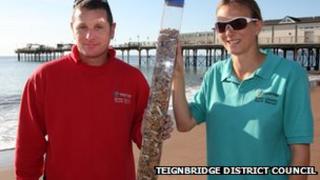 A campaign has been launched after more than 8,000 cigarette ends were picked up on two Devon beaches.
Teignbridge District Council has launched its 'No butts on the beach' campaign after picking up the rubbish in Teignmouth and Dawlish Warren.
The teams collected thousands of cigarette ends over the course of a week, placing them in plastic tubes.
The findings have been displayed on posters which are being shown in both beach resorts.
On Teignmouth Beach the teams collected 4,863 cigarette ends, while at Dawlish Warrren beach the total was 3,851.
Councillor Syliva Russell, the council's executive spokesperson for tourism, said: "I was shocked to see the huge number of discarded butts found on our beaches, and like dog fouling, I am pleased we're doing something about it."
The council said each cigarette end can take 15 years to biodegrade because the filters are made of a type of plastic.
Ms Russell added: "This campaign is a really good way of highlighting the matter and trying to make sure people dispose of them properly by stubbing them and binning them."