Improvements to Devon's Tarka line railway begin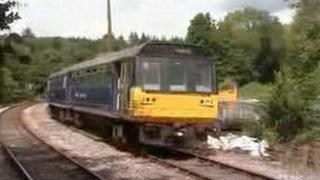 Part of Devon's Tarka rail line linking Barnstaple and Exeter has been closed until the beginning of December so the track can be upgraded.
Network Rail is spending more than £9m this year making improvements to the line, renewing nine miles of track.
The company said over the last 10 years, the number of trains on the line has increased, reflecting a significant increase in passenger use.
During the work, buses will replace trains between Crediton and Barnstaple.
The number of journeys made on the line was more than 500,000 in a single year for the first time in 2011.
This was an increase from 306,169 journeys in 2006 to 512,091 last year.
Tim Maddocks, from Network Rail, said: "We're spending £9m this year doing all this track relaying.
"We believe this is the biggest expenditure in a financial year for over 100 years on the Tarka line."
The line runs for 39 miles between Exeter and Barnstaple, following the rivers Yeo and Taw.
Further work will be carried out on the line in March 2013, which Network Rail said would take an additional seven days.