Devon Police warn over rise in graffiti in Exeter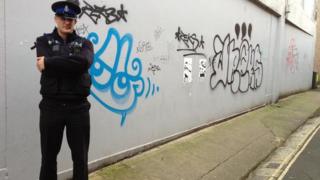 Vandals are causing thousands of pounds worth of damage by daubing graffiti in a Devon city, police have warned.
Devon and Cornwall Police said its officers in Exeter had seen an increase in tags and slogans on public buildings.
Tom Lewis who runs a sweet shop said his premises was targeted most weeks which was "frustrating" and "costly".
Devon and Cornwall Police said anyone caught carrying out graffiti would be dealt with for criminal damage.
PCSO Antony Keller said: "We think there's a new handful of individuals that just think 'we're going to make our mark on the city' and unfortunately it's costing people around Exeter thousands of pounds to clear it up.
"There are places around Exeter you can legitimately put graffiti on the wall and some of it can be quite artistic but here it's just criminal damage."
Mr Lewis who runs Sweet Cheeks Sweet Shop said: "We just feel really angry and frustrated that it keeps coming back as much as we cover it, it's an everyday occurrence."