Matthew Freud banned for driving at 117mph with son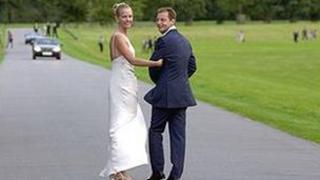 PR guru Matthew Freud has been banned from driving after being caught at 117mph (188km/h) with his young son asleep in the front of the car.
The 48-year-old was returning home to London from Cornwall when a police officer spotted him on the M5 in Devon.
Freud - the great-grandson of Sigmund Freud and son of former MP Clement Freud - claimed he was not used to the power of the Ferrari.
He was banned at Exeter Magistrates' Court for six months and fined £830.
The court was told Freud, who is married to Rupert Murdoch's daughter Elisabeth and has his own public relations company, had borrowed the Ferrari from an associate to attend a business meeting in Cornwall in July.
'Substantial means'
Prosecutor David Barnes said when Freud was stopped by police on the M5 at Sampford Peverell in Devon, his five-year-old son was asleep in the front passenger seat.
Freud's lawyer Martin Bourne said his client had borrowed the car and "did not keep an eye on the speed".
He said the father of six did much of the driving for his family as his wife works away from home a great deal and "he was not someone who habitually speeds".
"He apologises for the offence - he accepts that it was a grossly excessive speed," he said.
Mr Bourne said Freud would not suffer exceptional hardship by a ban and his means were "substantial" enough to pay a fine.
The court was told Freud already had nine points on his licence - two fixed penalties for speeding and one for using a mobile phone while driving.
Freud admitted the speeding charge and magistrates added a further six points to his licence - making a total of 15 under the "totting up" rule.
Court guidelines state that should a driver reach 12 points in a three-year period, an automatic disqualification will be imposed unless special circumstances prevail.