Schoolchildren plant 1,000 trees in Devon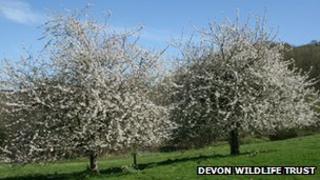 Hundreds of schoolchildren have started planting a thousand trees throughout Exeter as part of a Devon Wildlife Trust project.
They are planting native trees, which include rowan, oak, hazel, alder and hawthorn, along with fruit trees including cherry and apple.
The project has been funded by Defra and The Alcoa Foundation.
It forms part of Exeter Wild City, a five-year project between Devon Wildlife Trust and Exeter City Council.
The Big Tree Plant begins with a community-led initiative in the Pennsylvania area of the city.
Over the next three years, Devon Wildlife Trust is planning to plant more than 3,000 trees.
Local children and the residents' organisation the Sylvania Environment and Community Group have worked with Devon Wildlife Trust to plant nearly 200 trees in green spaces on their patch.
On Tuesday, 500 students from the city's St Luke's College and Bicton College will be planting more than 800 trees around St Luke's grounds.
Emily Stallworthy, from the trust, said: "Planting trees is a great way to improve urban areas."