Dredging plan to replace Dawlish Warren's shifting sands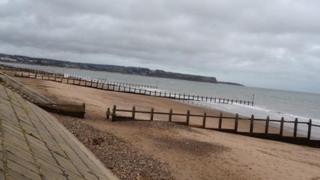 Thousands of tonnes of sand could be moved from one east Devon town to another as part of a plan to shore up flood defences and restore a beach.
Dawlish Warren had lost about 100,000 tonnes of sand over 15 years, with most of it ending up at Pole Sands, near Exmouth, the Environment Agency said.
The agency and Teignbridge Council are considering dredging and bringing sand back along the River Exe to Dawlish.
The project could go ahead in the next three to four years, they said.
'Dramatic loss'
Tides and currents have been sucking the sand off the beach and moving it eastwards on to the sand bar in the estuary off Exmouth.
Martin Davies, from the agency, said the "dramatic loss of sand" had meant the Dawlish beach had dropped by about 2m (6ft) over the last decade.
As well as the possible damage to tourism, the agency and council said they were concerned it was affecting local flood defences, as the Warren helps protect nearby villages and the main railway line behind the beach.
Neil Baglow, from Teignbridge District Council, said the project - which could cost up to £7m - would be quite simple.
He said: "We'd have a massive dredger that would suck up the sand, and then and come and spray it back on to the beach."
However, concerns have been raised such dredging could leave Exmouth, on the other side of the estuary, vulnerable to flooding.
Exmouth councillor Eileen Wrag said: "Pole Sands protects Exmouth. It could leave Exmouth vulnerable from inundation from the sea."
Mr Davies said this would not be the case: "There are rigorous licensing procedures.
"Before the project goes ahead, there has to be a guarantee that that won't happen."
Discussions are ongoing into the initial project.