Trude Mian confronts meat cleaver robbers in Braunton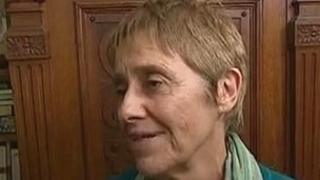 A woman who chased two armed robbers out of a petrol station in Devon wielding one of their knives has said she "wanted to go down fighting".
Trude Mian was threatened with a meat cleaver and a kitchen knife during the attack on Saturday at Knowle Garage in Braunton.
As she tried to call the police, one robber used the cleaver to cut the telephone cable.
Ms Mian said: "I thought, 'I hope it's not my head next'."
'Picked up knife'
Ms Mian pressed the emergency button under the counter which one of the robbers saw.
She said: "I noticed he put the knife down on the counter, so I picked it up and then ran after them.
"If he turned around with his meat cleaver at least I had something to defend myself with, I wanted to go down fighting."
She added: "I think [the robbers] were crouching to try to avoid the CCTV.
"I thought they were kids playing around but I thought, it wasn't Halloween.
"It was only when they were halfway up the aisle that I realised they were wearing balaclavas and had knives."
She said one of the men pushed her down out of the way while the other demanded that she opened the till.
"I told him there wasn't anything in the till because I'd just emptied it."
She added that at the time she was frightened but also very angry.
Devon and Cornwall Police are appealing for anyone with information to come forward.