Pharmacy iPad innovation wins Plymouth Hospitals cash award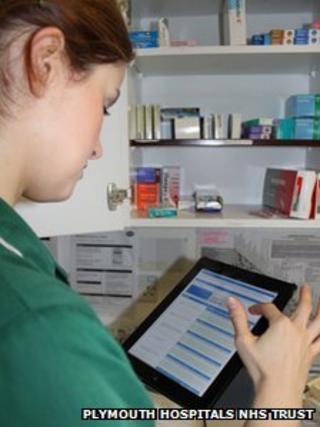 Modern technology is being used to improve the security and storage of medicines at hospitals in a Devon city.
Pharmacy staff at Plymouth Hospitals NHS Trust have developed an iPad audit tool which allows them to check wards and clinical areas every month.
Staff previously carried out a manual audit once a year.
The "innovative" use of technology won the trust £2,000 from the Guild of Healthcare Pharmacists and the United Kingdom Clinical Pharmacy Association.
The iPad audit tool allows pharmacy staff to record and analyse whether medication is being stored correctly and securely.
Simon Mynes, director of pharmacy, said since the new system had been introduced, the trust's safety compliance rate was now "consistently above 90%".
"The main advantages to the new system are that we are now able to electronically input findings whilst undertaking the audit and we can access the results immediately.
"We believe we are the first trust to develop and introduce a monthly audit that is carried out electronically.
"We will be using the prize money to purchase some more iPads to use alongside the two we currently have."