Big increase in South West gender swap cases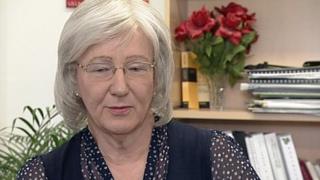 An NHS gender clinic in Devon has seen a six-fold increase in referrals in six years.
The Laurels gender and sexual medicine clinic in Exeter saw 167 new cases last year, about half of whom will be supported to undergo a surgical sex change.
The Laurels is run by Devon Partnership NHS Trust and provides a service to people with gender dysphoria across the South West.
Clinical team leader Maria Morris said despair over their condition leads many gender dysphoric people to self harm and even suicide.
No choice
She said those who undergo gender change seldom need to access mental health services afterwards, while those who do not have treatment are likely to need psychiatric help throughout their lives.
"Financially it's a no-brainer," she said.
Ms Morris said that increased publicity and awareness of the condition and the treatment available were the reasons behind the rise in the number of people being referred to the clinic.
It is estimated that one in 11,500 people experience gender dysphoria and men are diagnosed five times more than women.
Most will have to undergo a psychiatric assessment before their local primary care trusts will approve funding for a first appointment.
Paula Johnston, 63, from Somerset, was born male but knew she was unlike other boys and hated the changes to her body during puberty.
Believing there was no choice but to conform, she married and fathered two children.
It was not until decades later that she discovered, through the internet, that there was a name for her condition, gender dysphoria, when an individual's biological sex does not match their gender identity.
Paula was referred to The Laurels and three years on, after counselling, hormone therapy and surgery, her transition is complete.
There have been sacrifices.
'Huge difference'
The need to confront her sexuality meant divorce from her wife, though they remain on friendly terms. Paula's son, who still calls her Dad, finds his father's new persona difficult to accept.
However, she is in no doubt the choice was the right one.
She said: "It makes a huge difference.
"I'm so much more at ease with myself and I'm able to do the things I wanted to do. I wanted to live as a woman, which I am."
This year David Mossey, from Plymouth, embarked on the transition process and has had his first testosterone injection.
Now 51 and a technical clerk with Network Rail, he is making the physical changes that will reflect what he knows is his true gender.
"Even when I was little I always thought I was a little boy," he said.
David coped with the frustration of his situation by almost obsessive hard work.
"I internalised it to the point that, if you unscrewed my head, it would have blown like a volcano."
His family, colleagues and employer are supportive of his decision to undergo a sex change so that finally, the body will match the mind.
"When you look at yourself in the mirror, it will all be in place," he said.